What Happened to Hancock's Promise of a "Great British Summer"?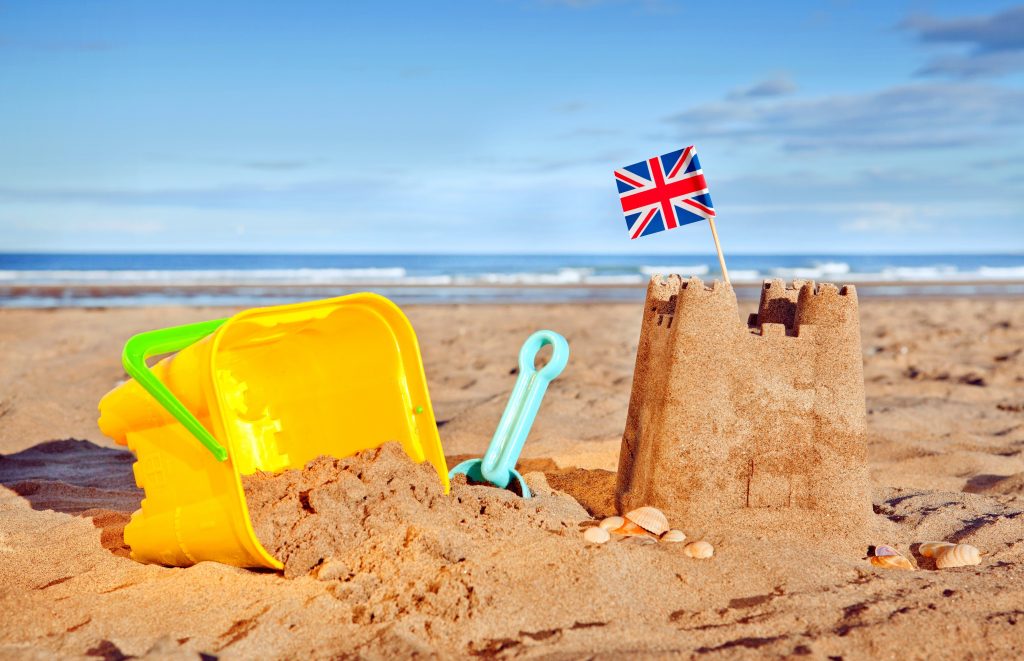 Hard to believe it was only 11 days ago that Matt Hancock was telling Brits they could look forward to a "great British summer". Yesterday, Transport Secretary Grant Shapps turned up on breakfast TV to pour icy water on that ember of hope and tell the country to hold off on their summer plans – and in the UK, too, not just abroad. The reason? Because we can't go back to moving around the country until everyone is vaccinated. As for travelling abroad, that's off the table until the whole world is vaccinated. The Independent has more.
Speaking on BBC Breakfast, Grant Shapps said travelling abroad would depend on "everybody having their vaccinations" in the UK – and potentially abroad.

He was speaking after the Government revealed plans for many arrivals to the UK to go into hotel quarantine, with penalties of up to 10 years in prison for people who fail to disclose a visit to Portugal or other "red-list" countries within the past 10 days.

The presenter, Louise Minchin, asked Mr Shapps: "There's so much concern from many people, including of course the travel industry, about how you lift this – so what is the pathway, what needs to be the difference for this to change?"

"We'll need to wait for other countries to catch up as well, in order to do that wider international unlock," he added.

The Transport Secretary also told BBC Breakfast that jail terms of up to 10 years for people who lied on their passenger locator form was appropriate.

"I think the British public would expect pretty strong action," he said.

In a move that will anger the travel industry, Mr Shapps warned prospective holidaymakers against making any plans.

"Further down the line I simply don't know the answer to the question of where we'll be up to this summer. It's too early to be able to give you that information. You'd want to wait until that's clear before booking anything.

"The best advice is: do nothing at this stage."

He told BBC Today: "On the shrinking chance that there's anybody listening to this interview at this stage and thinking of booking a holiday under the current circumstances, bear in mind you cannot legally do that at the moment.

"Until you know the result of a lockdown which we can't know until we have more data, more information, more information on vaccines as well, please don't go ahead and book holidays for something which at this stage it is illegal to actually go and do – whether it's here or abroad."
Surely, it isn't technically illegal to book a summer holiday?!? Unwise, perhaps, but not illegal. Or is the Government planning to make that a criminal offence punishable by 10 years in jail?
It feels a lot like September all over again. Back then, the great optimistic opening up over the summer, which we'd been led to believe was a one-way process, was suddenly slammed into reverse as we headed into autumn. Now, the great promise of opening up through a lightning-fast vaccination programme has over the course of a couple of weeks warped into a threat of indefinite lockdown.
Allison Pearson hits the nail on the head as usual in the Telegraph.
Back at the beginning of January, the Prime Minister told us that – alas! – we must enter a third lockdown because the NHS was in danger of being overwhelmed again. Now, despite what you see on the TV news, that danger is receding fast.

In the last three weeks, there has been a massive reduction in beds occupied by Covid patients, a much steeper dropping-off in numbers than we saw back in May and June.

There is a slower fall in intensive care than across beds in general, but that's because very sick people are being treated for longer and not dying, as they may well have done in the spring.

The UK vaccine rollout continues to astonish. At this rate, the top nine at-risk groups, currently linked to 99% of Covid deaths, will all be protected by March 23rd. Once the most vulnerable have been vaccinated, hospital admissions and deaths should plummet.

Make no mistake, this is tremendous news. Factor in that the weather will start to get warmer (spring is when all respiratory viruses retreat), and there really is no excuse for the Government not to provide a clear roadmap out of lockdown.

Yet, dismayingly, the reaction of members of SAGE and the even-more-Left-wing Independent SAGE, is to spread further fear and despondency.

Hear that loud trundling? It's the sound of a World Cup of goalposts being moved by hatchet-faced mathematical modellers. Opening up by spring has somehow slipped to summer. It used to be that we could get our lives back once people over 70 had been vaccinated. Suddenly, it's the over-50s.

"Vaccinating everyone over 50 doesn't stop Covid spreading," cautions Independent SAGE's Professor Christina Pagel. True – but why would that matter when the risk is of a very mild or asymptomatic infection? By then, the chance of serious illness from Covid would be around the same as the fatality level of flu.

As free people, we should be allowed to run that small risk in order to enjoy a full and satisfying life, not the lonely, twilit existence of the past 10 months.

Not so long ago, relieving pressure on the NHS was the condition to be met before they gave us our freedom back. Now that we've almost cleared that bar, fools who think the virus can be extinguished are saying we can't be released until we get down to 1,000 cases a day. If they test enough people, they'll always find enough false positives to keep us in jail. Trapped forever, then.

"We risk suffering from the failure of so many experts to imagine a post-vaccine world, where COVID-19 ranks with other respiratory viruses in terms of risk," says Professor Robert Dingwall, one of the most balanced and humane scientists during a period when humanity and proportion have been sorely lacking.
Worth reading in full.
Stop Press: A Lockdown Sceptics reader had a good dig through the SAGE minutes and found the likely source of the new extreme travel restrictions. In SAGE 77 minutes from January 21st we read:
Measures to reduce importations are most important when domestic prevalence (either overall or of a particular variant of concern) is low and when importation could lead to R>1. No intervention, other than a complete, pre-emptive closure of borders, or the mandatory quarantine of all visitors upon arrival in designated facilities, irrespective of testing history, can get close to fully prevent the importation of cases or new variants (moderate confidence, moderate evidence).
When will this recently discovered need to keep borders tightly sealed to "new variants of concern" end? The wise monkeys do not say.
"Existing Isn't Living" – Sir Charles Walker MP on Radio 4's World at One
Historian and Lockdown Sceptics regular Guy de la Bédoyère has written a new piece for us, complete with an edited transcript of Charles Walker's inspiring turn on BBC Radio yesterday morning. Here's how Guy begins.
I freely admit that of late I have tried to adopt a more conciliatory tone, frustrated by the polarisation of the debate about how to get out of this crisis and the apparent inability of people to listen to each other. But with the news getting worse every day, vaccines gradually diminishing as an escape as scientists reel back at the earth-shattering discovery that viruses mutate, and lockdowns turning into a permanent policy in the fantasy world of zero-Covid (now they are necessary to help the fight against mutations), I am close to the point of giving up.

Living in Britain in 2021 is like cowering in a submarine while enemy depth charges explode all around you. You daren't rise to the surface and instead just sink lower and lower. The only difference is it's our own Government dropping them.

I don't mean to sound trite. I'm well aware what real despair and depression can do to people. I have seen it at first hand. But as things stand it's getting more and more difficult to understand what the point of carrying on is, if the only vision of the future the Government and large swathes of the population have is of living in a country where we can't do anything, can't see anyone or go anywhere, and have nothing to look forward to except living in a police state to 'keep us safe'. What the hell for?

We've now had the ever-wise-after-the-event expert, Professor Neil Ferguson, telling us social distancing and masks are probably here to stay for the rest of the year thanks to Government ministers' negligence. One wonders just exactly what would satisfy him?

Today, I turned on the World at One on Radio 4, filled with almost total despair at the news of 10-year prison sentences being added to the list of reasons why this country is turning into a control freak's paradise. It turned out to be better than I expected. An interview with Paul Hunter, professor of Medicine at UEA, included the helpful gem that "complete eradication is an unachievable goal" but he still wanted to worry about the extent to which restrictions should stay in place to protect those who haven't been vaccinated. He rejected the idea that border restrictions could not have any "substantial, ongoing benefit after April… I hope they don't last very long" but still seemed fairly obsessed with worries about mutated variants.

That was all nothing to what came next. I was overjoyed to hear the Voice of Reason from one of the heroes of the hour (it starts at 28m 45s into the show).

There was a priceless no-punches pulled interview with Sir Charles Walker MP, Vice-Chairman of the 1922 Committee. He strafed the most recent hapless Government double-act by Messrs. Shapps and Hancock like a rocket-firing Hawker Typhoon on a low-level raid in 1944. This is some of what he said. Sarah Montague kicked off with asking him what he felt about how things should be playing out in the next few weeks.

Charles Walker: Very disappointed. The Prime Minister has had a good few weeks where he seems to have been on top of things and then he is somewhat let down by both the Secretary of State for Health and the Secretary of State for Transport. First the Secretary of State for Health threatening to lock people up for 10 years… 10 years for crying out loud! And then we have the Secretary of State for Transport urging people not even to book domestic holidays. Now there's a lot of people who will have seen a lot of hope evaporate at that… so, two really depressing interventions from two senior secretaries of state.

An extended exercise in almost studied and deliberate cruelty.
Worth reading in full.
Stop Press: A Lockdown Sceptics reader has uploaded Walker's World At One interview to his YouTube channel.
Stop Press 2: Fraser Knight tweets about Charles Walker's interview with Sky News here.
WHO Tugs Forelock and Toes Chinese Communist Party Line on Virus Origin
Following Tuesday's perfunctory dismissal by the World Health Organisation (WHO) of the lab-leak hypothesis, Ian Birrell in UnHerd is dismayed by the WHO's blatant kowtowing to China and apparent lack of curiosity about the facts.
So why is WHO so dismissive of a possible lab leak? After all, Peter Ben Embarek, the Danish food safety scientist leading its mission, explained that all the work to identify the origin of COVID-19 continues to point towards a natural viral reservoir in bats – but accepted they were unlikely to have been flying over Wuhan. He said his team held a "very long, frank, open discussion with the management and the staff" at Wuhan Institute of Virology (WIV), listened to their description of research carried out, accepted assurances that they did not posses Sars-Cov-2 in their virus banks, examined health data they were given, took the view such leaks are rare and then decided that microscopic pathogens could not escape from such a high-secure unit. "It was very unlikely that anything could escape from such a place," he said firmly.

It is sweet these international scientists are so trusting of their Chinese colleagues, despite all the evidence of cover-up with the previous Sars epidemic soon after the turn of this century and then again in initial weeks of this pandemic. But this hardly sounds the most forensic, evidence-based approach given the seismic importance of their conclusions. We know the controlling nature of Chinese state repression. We know there have been many leaks before from labs, including 11 Sars infections from a top-security Beijing research centre in 2004. We know there were safety concerns since they were admitted by WIV's head of security in a journal shortly before the outbreak. We know databases of unpublished viruses were hidden from outsiders. And we know that for all the WHO team's faith in the WIV security, much of their Sars research was carried out at lower security labs in the city,

We also know scientists in Wuhan initially feared the novel coronavirus leaked from their lab. We know they were performing risky "gain of function" research that forces evolution of viruses, which some scientists have long feared might spark pandemic. We know they were combining snippets from different strains of bat coronaviruses and creating chimeric diseases using cloning techniques that display no sign of human manipulation. We know they were injecting viruses into "humanised mice" and trying to determine how bat diseases jump the barrier between species. We know also this new disease was well adapted to human transmission, possessing a mutation that allows its spike protein to bind to many human cells that is not found on similar types of coronaviruses. And we know two Chinese scientists in February claimed "the killer coronavirus probably originated from a laboratory in Wuhan" before their paper was hastily deleted.

Then there are the issues swirling around Shi Zhingli, Wuhan's famed expert known as "Batwoman" for her sample-gathering trips in southern China, that have raised suspicions after being winkled out by Drastic, a group of researchers and scientists. Her actions include claiming three miners died of a fungal infection in 2012, when it later emerged they died from a respiratory disease similar to Covid that they caught clearing bat droppings in one of those caves. She obscured a link to their fatalities when publishing an influential Nature paper about the closest known relative to Sars-Cov-2 – and altered the name of this virus without mention of her action in that paper, widely taken as indication of natural transmission. Now she pushes ideas of transmission by mink and, yes, frozen food.
The episode, which exposes the extent to which the WHO has become supine before the Chinese Community Party, was "embarrassing", writes Birrell.
That charade of a press conference – after 12 days wandering around Wuhan that included visiting a propaganda exhibition celebrating China's recovery – was simply embarrassing. There is also a major flaw in the logic expressed at the event. The WHO stance is based on placing faith in China, despite all the evidence that this is a state that cannot be trusted – whether lying about its horrific treatment of minorities in Xinjiang, breaking a historic deal with Britain to protect freedom in Hong Kong or silencing noble doctors trying to alert the world to looming disaster. Yet if a leak was covered up, is it possible to trust such a Government? So if WHO is ruling out the likelihood of a laboratory accident, it must immediately release all data and evidence supporting its case.
Worth reading in full.
Stop Press: Breitbart News reports that World Health Organization adviser Jamie Metzl told Fox News that "the actual investigation was done by Chinese authorities. And so, the WHO investigators were basically receiving reports from the Chinese officials".
Stop Press 2: Freddie Sayers of UnHerd tweets that this is how Ian Birrell's piece appears on Facebook.
Frustrations of a Volunteer Vaccinator
Today we're publishing an original piece by a former nurse on her experience of stepping up to help with the vaccination programme after reading in Lockdown Sceptics that St John Ambulance was recruiting volunteers. The red tape she had to get through was unbelievably voluminous and, when she finally reported for duty, she found she wasn't needed. Here's an excerpt:
I arrived for the 2pm-8pm shift, and it immediately became obvious that volunteers were, by and large, superfluous to requirements: Despite our training and preparation, almost all St. John volunteers were assigned roles which could be generously described as 'meet and greet', but mainly involved giving out leaflets and standing at cold doors with nothing to do.

The place was full-to-bursting with NHS clinical staff. There were so many in fact that a good number were kicking their heels and just watching the proceedings. One nurse told me that they daren't leave their vaccination posts for a break, as if they did so their tables would be snapped up by other staff with nothing to do.

As the second vaccination site had now become 'live' and was better positioned geographically for me (and located in a more rural area), I decided to change my shifts to volunteer at that site in the hope they might actually need volunteers!

The evening before my first shift (8am-2pm) I received an email to say the shift had been cancelled as the NHS didn't require volunteers at this time. The following week was also cancelled, so I contacted St. John's local team to find out what was going on.

I was told that the NHS team managing the site had informed them they currently had "no need for volunteers". In addition, the original vaccination site (in the large city) now also didn't require volunteer vaccinators, only 'advocates' and 'carers' (aka 'meet and greeters') so despite all our training, commitment, frustrations and efforts, there is at present nowhere in our region where a St. John Ambulance volunteer vaccinator (50 trained at present) can actually carry out vaccinations!

As well as being extremely frustrating, this is also very strange as we are constantly hearing how the NHS is at risk of being 'overwhelmed' and needs 'protecting', yet when given a perfect opportunity for volunteers to pick up the slack and do the bulk of work at mass vaccination centres, the NHS instead choose to divert hundreds of staff from hospitals into the mass-vaccination centres, turning down offers of help from perfectly capable volunteers.
Worth reading in full.
Prof Karol Sikora: Lockdowns Cause More Deaths Than They Prevent
Professor Karol Sikora and colleagues have a new article in a peer-reviewed journal evaluating lockdowns from a cost-benefit perspective in terms of life-years lost and saved. This is the abstract.
Every policy has direct and indirect effects of intended and unintended consequences. Policies that require people to stay at home to reduce the morbidity and mortality from COVID-19 will have effects beyond the virus. For example, they will adversely affect mental health and economic prospects for many. They will also affect people's willingness and ability to access health and social services. This is likely to result in increases in morbidity and mortality from otherwise curable diseases, such as cancer, acute myocardial infarction and stroke. A comparison between COVID-19 deaths prevented and excess cancer deaths caused shows it is possible that preventing COVID-19 deaths through lockdowns might result in more life-years being lost than saved.
Worth reading in full.
Stop Press: Great Barrington Declaration co-author Professor Martin Kulldorff and Professor Günter Kampf have a letter in the Lancet calling on Governments to carry out proper "benefit–risk evaluations of COVID-19 control measures".
We think government lockdowns cause substantial collateral health damage. For example, hospital admissions in the USA for emergency treatment of acute ischaemic strokes have been substantially lower in February–March, 2020, than in February–March, 2019, resulting in delayed treatment. Compared with a historical baseline, UK nursing homes and hospices saw an increase in the number of deaths between February and June, 2020, associated with acute coronary syndrome (a 41% increase), stroke (a 39% increase), and heart failure (a 25% increase). The situation is similar for patients with cancer. In German hospitals, cancer cases decreased during the first national lockdown between March 12th and April 19th, 2020: by 13·9% for breast cancer, 16·5% for bladder cancer, 18·4% for gastric cancer, 19·8% for lung cancer, 22·3% for colon cancer, and 23·1% for prostate cancer, suggesting that cancers might have been undetected and untreated during this period. In England, hospital admissions for chemotherapy appointments have fallen by 60%, and urgent referrals for early diagnosis of suspected cancers have decreased by 76% compared with pre-COVID-19 levels, which could contribute to 6270 additional deaths within 1 year. Delayed diagnosis and treatment are expected to increase the numbers of deaths up to year 5 after diagnosis by 7·9–9·6% for breast cancer, 15·3–16·6% for colorectal cancer, 4·8–5·3% for lung cancer, and 5·8–6·0% for oesophageal cancer.

Government restrictions are disrupting traditional means of support between friends and family members. Physical distancing and contact reduction are causing severe stress to many people and might increase the risk of suicide. In a meta-analysis of the prevalence of stress, anxiety, depression among the general population during the COVID-19 pandemic,7 the prevalence of depression in the months of the pandemic up to May, 2020, was 33·7% (95% CI 27·5–40·6). Between April 22nd and May 11th, 2020, 795 (78·9%) of 1008 people aged 18–35 years in the USA reported symptoms of depression. Further and stronger restrictions on physical and social contact could lead to a further increase in the prevalence of depression.
Worth reading in full.
Sweden Smeared by Secretive Elite Facebook Group
Two Swedish investigating media groups have exposed an online cabal that deliberately smeared their own country in international media in an effort to discredit the Swedish light-touch Covid strategy. Sveriges Radio has the details.
– Ekot and Vetenskapsradion have gained insight into the activities of a hidden Facebook group.
– Very serious allegations are spread in a social media campaign.
– Experts in the field of information influence consider the tone and methods to be worrying.

The closed Facebook group with just over 200 members includes academics, opinion leaders, researchers at Swedish universities and others who are upset about Sweden's handling of the coronavirus.

The members are largely active in Sweden, but the dialogue is conducted in English. We have gained insight into the closed group, the posts and activities for a long time.

Members coordinate activities in the Facebook group and take the messages to the comment field, Twitter, Swedish and international media. They have placed their messages in Time, Science, Washington Post, among others.

Hanna Linderstål is an independent virtual analyst and works to strengthen the business community's and authorities' knowledge of the impact of information.

What we can see in this group's activities that make it interesting is partly that they court international media where they present Sweden as both a failure and that the authorities in Sweden would have a hidden agenda about the country's corona strategy, says Hanna Linderstål.

Hanna Linderstål thinks that the group's processing of international and Swedish media is very worrying.

Among other things, other countries are urged not to let Swedes in, to protect the countries. And these are strong statements that are made about Sweden internationally, she says.
Johan Hellström tweets about it here.
Poetry Corner
12 year-old E. C. wrote this and sent it in at the encouragement of her mother.
Hands, face, space
Hands, face, space
Wreck your hands by washing them,
Strip them of all oil
End up with zombie skin
Turn water up to boil.
Cover your face – let's suffocate
From the lack of air
Smell your breath wherever you go,
As if cloth will stop a virus!
Keep away from people
Possible? Nah
We all are on the same Earth;
Same air
The virus isn't picky
Distance – doesn't care!
Theme Tunes Suggested by Readers
Four today: "All Around The World" by Oasis, "For Tomorrow" by Blur, "I Wanna Be Sedated" by the Ramones and "The Shape of Things to Come" by Headboys.
Love in the Time of Covid
We have created some Lockdown Sceptics Forums, including a dating forum called "Love in a Covid Climate" that has attracted a bit of attention. We have a team of moderators in place to remove spam and deal with the trolls, but sometimes it takes a little while so please bear with us. You have to register to use the Forums as well as post comments below the line, but that should just be a one-time thing. Any problems, email Lockdown Sceptics here.
Sharing Stories
Some of you have asked how to link to particular stories on Lockdown Sceptics so you can share it. To do that, click on the headline of a particular story and a link symbol will appear on the right-hand side of the headline. Click on the link and the URL of your page will switch to the URL of that particular story. You can then copy that URL and either email it to your friends or post it on social media. Please do share the stories.
Social Media Accounts
You can follow Lockdown Sceptics on our social media accounts which are updated throughout the day. To follow us on Facebook, click here; to follow us on Twitter, click here; to follow us on Instagram, click here; to follow us on Parler, click here; and to follow us on MeWe, click here.
Woke Gobbledegook
We've decided to create a permanent slot down here for woke gobbledegook. Today, it's the news that Brighton and Sussex University Hospitals NHS Trust is going full woke and erasing women from its maternity perinatal services department. The Mail has the story.
Critics have lambasted a hospital which told staff to use terms like "birthing parents" and "human milk" rather than just referring to "mothers" and "breast milk".

Brighton and Sussex University Hospitals NHS Trust unveiled a blizzard of "gender inclusive" phrases in a drive to stamp out "mainstream transphobia".

Other changes include replacing the use of the word "woman" with the phrase "woman or person", and the term "father" with "parent", "co-parent" or "second biological parent", depending on the circumstances.

But it has led to a backlash from critics today who have hit out at the new terminology, branding it "utter nonsense".

This comes as a row erupted in Westminster over a special maternity bill referring to "pregnant people" rather than women.

Brighton and Sussex University Hospitals NHS Trust is the first in the country to formally implement such a radical overhaul for its maternity services department – which will now be known as "perinatal services".

But author and film writer Dougie Brimson and editor of the Jewish Chronicle, Stephen Pollard, are among critics to hit out at the new terminology.

Mr Brimson tweeted: '"Chestfeeding' and 'human milk'… Someone within this trust is no doubt being paid a fortune to come up with this kind of utter nonsense. Think about that the next time you're whining about the #NHS being underfunded."

Speaking about the move on Good Morning Britain, Piers Morgan said today: "Midwives have been told to refer to chest-feeding rather than breastfeeding and replace the term mother with birthing parent."

"Chan" wrote on Twitter: "I'm transgender myself and Morgan is completely correct. This isn't what the majority of transpeople ask for and it hinders our rights, not helps us. That's my point. I want transgender people to have respect and dignity and equality. I don't think you get there by telling midwives to stop using the term breastfeeding because it may upset a few people when 99% of the people in there are breastfeeding.

"It's nonsense and this kind of PC nonsense with the language, it has the opposite effect to what you think it does. It annoys people, it doesn't bring them any inclusivity. It becomes exclusive and alienates people."
Read it in full here.
"Mask Exempt" Lanyards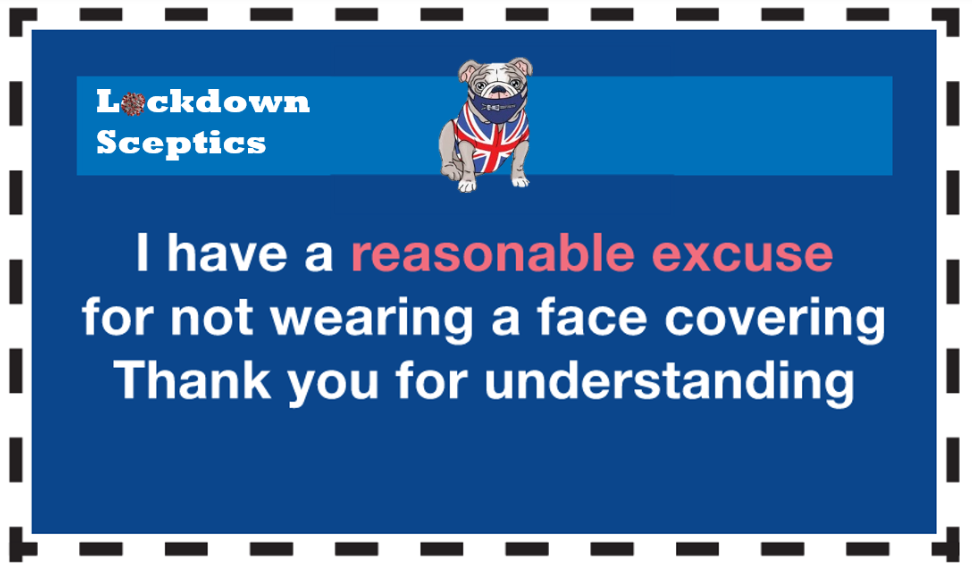 We've created a one-stop shop down here for people who want to obtain a "Mask Exempt" lanyard/card – because wearing a mask causes them "severe distress", for instance. You can print out and laminate a fairly standard one for free here and the Government has instructions on how to download an official "Mask Exempt" notice to put on your phone here. And if you feel obliged to wear a mask but want to signal your disapproval of having to do so, you can get a "sexy world" mask with the Swedish flag on it here.
A reader has started a website that contains some useful guidance about how you can claim legal exemption. Another reader has created an Android app which displays "I am exempt from wearing a face mask" on your phone. Only 99p.
If you're a shop owner and you want to let your customers know you will not be insisting on face masks or asking them what their reasons for exemption are, you can download a friendly sign to stick in your window here.
And here's an excellent piece about the ineffectiveness of masks by a Roger W. Koops, who has a doctorate in organic chemistry. See also the Swiss Doctor's thorough review of the scientific evidence here and Prof Carl Heneghan and Dr Tom Jefferson's Spectator article about the Danish mask study here.
Stop Press: Warner Media in the US have teamed up with the CDC to produce a video with famous film characters such as Wonder Woman, Harry Potter and the hobbits wearing masks to encourage compliance. Is nothing sacred?
The Great Barrington Declaration
The Great Barrington Declaration, a petition started by Professor Martin Kulldorff, Professor Sunetra Gupta and Professor Jay Bhattacharya calling for a strategy of "Focused Protection" (protect the elderly and the vulnerable and let everyone else get on with life), was launched in October and the lockdown zealots have been doing their best to discredit it ever since. If you googled it a week after launch, the top hits were three smear pieces from the Guardian, including: "Herd immunity letter signed by fake experts including 'Dr Johnny Bananas'." (Freddie Sayers at UnHerd warned us about this the day before it appeared.) On the bright side, Google UK has stopped shadow banning it, so the actual Declaration now tops the search results – and Toby's Spectator piece about the attempt to suppress it is among the top hits – although discussion of it has been censored by Reddit. In February, Facebook deleted the GBD's page because it "goes against our community standards". The reason the zealots hate it, of course, is that it gives the lie to their claim that "the science" only supports their strategy. These three scientists are every bit as eminent – more eminent – than the pro-lockdown fanatics so expect no let up in the attacks. (Wikipedia has also done a smear job.)
You can find it here. Please sign it. Now over three quarters of a million signatures.
Update: The authors of the GBD have expanded the FAQs to deal with some of the arguments and smears that have been made against their proposal. Worth reading in full.
Update 2: Many of the signatories of the Great Barrington Declaration are involved with new UK anti-lockdown campaign Recovery. Find out more and join here.
Update 3: You can watch Sunetra Gupta set out the case for "Focused Protection" here and Jay Bhattacharya make it here.
Update 4: The three GBD authors plus Prof Carl Heneghan of CEBM have launched a new website collateralglobal.org, "a global repository for research into the collateral effects of the COVID-19 lockdown measures". Follow Collateral Global on Twitter here. Sign up to the newsletter here.
Judicial Reviews Against the Government
There are now so many legal cases being brought against the Government and its ministers we thought we'd include them all in one place down here.
The Simon Dolan case has now reached the end of the road. The current lead case is the Robin Tilbrook case which challenges whether the Lockdown Regulations are constitutional. You can read about that and contribute here.
Then there's John's Campaign which is focused specifically on care homes. Find out more about that here.
There's the GoodLawProject and Runnymede Trust's Judicial Review of the Government's award of lucrative PPE contracts to various private companies. You can find out more about that here and contribute to the crowdfunder here.
Scottish Church leaders from a range of Christian denominations have launched legal action, supported by the Christian Legal Centre against the Scottish Government's attempt to close churches in Scotland for the first time since the the Stuart kings in the 17th century. The church leaders emphasised it is a disproportionate step, and one which has serious implications for freedom of religion." Further information available here.
There's the class action lawsuit being brought by Dr Reiner Fuellmich and his team in various countries against "the manufacturers and sellers of the defective product, PCR tests". Dr Fuellmich explains the lawsuit in this video. Dr Fuellmich has also served cease and desist papers on Professor Christian Drosten, co-author of the Corman-Drosten paper which was the first and WHO-recommended PCR protocol for detection of SARS-CoV-2. That paper, which was pivotal to the roll out of mass PCR testing, was submitted to the journal Eurosurveillance on January 21st and accepted following peer review on January 22nd. The paper has been critically reviewed here by Pieter Borger and colleagues, who also submitted a retraction request, which was rejected in February.
And last but not least there was the Free Speech Union's challenge to Ofcom over its 'coronavirus guidance'. A High Court judge refused permission for the FSU's judicial review on December 9th and the FSU has decided not to appeal the decision because Ofcom has conceded most of the points it was making. Check here for details.
Samaritans

If you are struggling to cope, please call Samaritans for free on 116 123 (UK and ROI), email jo@samaritans.org or visit the Samaritans website to find details of your nearest branch. Samaritans is available round the clock, every single day of the year, providing a safe place for anyone struggling to cope, whoever they are, however they feel, whatever life has done to them.
Shameless Begging Bit
Thanks as always to those of you who made a donation in the past 24 hours to pay for the upkeep of this site. Doing these daily updates is hard work (although we have help from lots of people, mainly in the form of readers sending us stories and links). If you feel like donating, please click here. And if you want to flag up any stories or links we should include in future updates, email us here. (Don't assume we'll pick them up in the comments.)
And Finally…