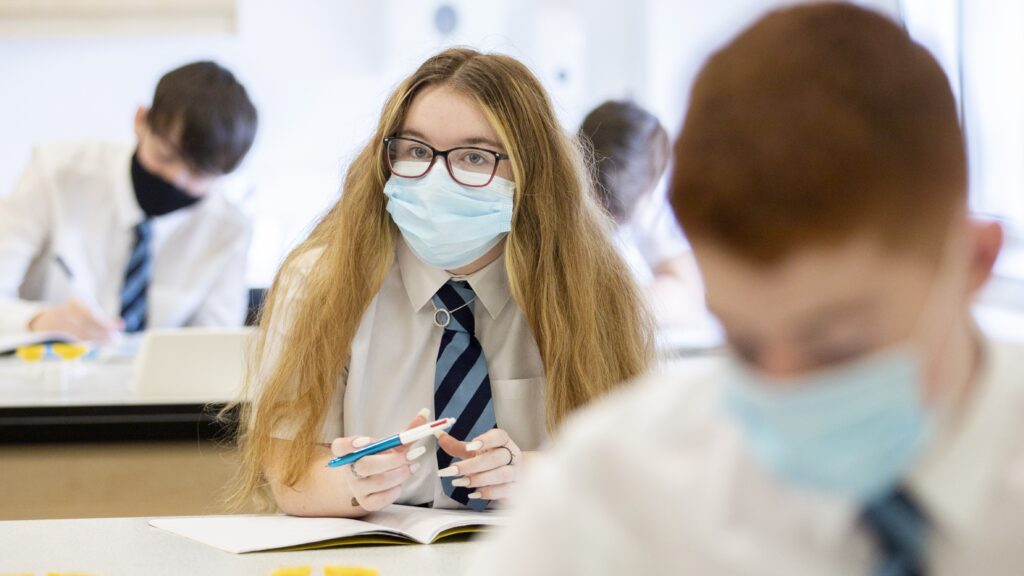 The Government on Wednesday published the evidence informing its recent controversial decision to recommend all secondary school pupils wear face masks in classrooms.
The new document from the Department for Education (DfE) explains that the decision "has been taken on the recommendation of UKHSA and is based on a range of evidence". It says the Government has "balanced education and public health considerations, including the benefits in managing infection and transmission, against any educational and wider health and wellbeing impacts from the recommended use of face coverings".
While conceding that the "direct COVID-19 health risks to children and young people are very low" – and rejecting SAGE's advice to recommend masks in primary school classrooms (yes, really) – it claims that "the balance of risks for secondary classrooms has changed at this point in time, in accordance with the evolving evidence and the phase of the pandemic".
The document summarises its evidence as follows:
Face coverings can be effective in contributing to reducing transmission of COVID-19 in public and community settings. This is informed by a range of research, including randomised control trials, contact tracing studies, and observational studies – assessed most recently by UKHSA, described in a review conducted in November 2021. The review's conclusions were broadly in line with those of a previous Public Health England review; however, the addition of randomised control trials and substantially more individual-level observational studies increases the strength of the conclusions and strengthens the evidence for the effectiveness of face coverings in reducing the spread of COVID-19 in the community, through source control, wearer protection, and universal masking.
In fact, though, the UKHSA review from November 2021 found no high quality studies (except, it claims, the ONS study, which really isn't high quality). Of the two randomised controlled trials (RCTs) that have been done and which were cited by the UKHSA, the one from Denmark found no statistically significant reduction in COVID-19 incidence from surgical masks (the study didn't look at cloth masks) while the Bangladesh mask study found no benefit from cloth masks and the reported benefit from surgical masks was just 11%, with a 95% confidence interval that included zero. The UKHSA review also considered 23 observational studies, which it said had "mixed" results and many of which were of low quality and small.
This does not seem a strong basis to claim a large effect for mask wearing. A recent more comprehensive review (which included earlier evidence for other flu-like viruses) by Ian Liu, Vinay Prasad and Jonathan Darrow for the Cato Institute, entitled "Evidence for Community Cloth Face Masking to Limit the Spread of SARS‐​CoV‑2: A Critical Review", concluded that: "More than a century after the 1918 influenza pandemic, examination of the efficacy of masks has produced a large volume of mostly low- to moderate-quality evidence that has largely failed to demonstrate their value in most settings."
That is a better summary of the evidence than the DfE managed.
Needless to say, the DfE gives the propaganda value of masking a nod: "It can be a visible outward signal of safety behaviour and a reminder of COVID-19 risks."
Notably, there is no mention in this document of the potential harms of wearing a mask for an extended period, such as the impact on breathing, the heart, or the skin. Contamination gets a brief mention, though it's quickly dismissed:
The Government's Case for Masks in Classrooms Accidentally Reveals They're a Terrible IdeaRead More