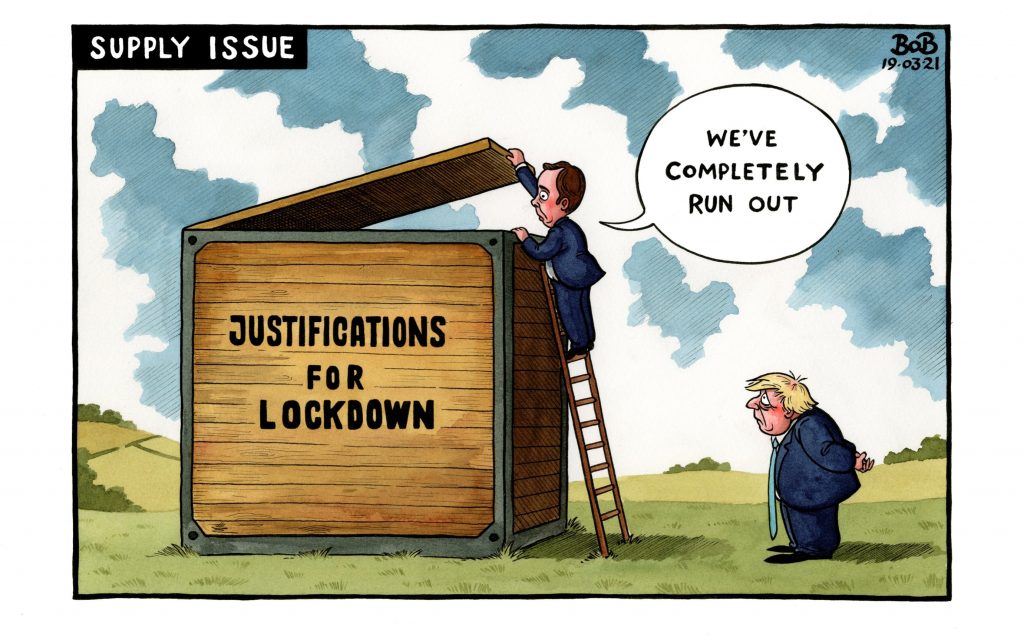 As reported positive cases plummet following 'Freedom Day' – down to 24,950 across the U.K. on Monday, less than half the peak of 54,674 just nine days earlier – the damage limitation among the doomsters begins.
In the Spectator , Professor Oliver Johnson of Bristol University stepped up this morning to try to explain.
He starts by observing that "for the first time in 18 months, there's been a fall in cases that can't be easily explained by a national lockdown". Yet the Spectator recently published an article by Professor Simon Wood showing that new infections peaked and fell before lockdown on all three occasions in England. Did the editors forget to bring it to Professor Johnson's attention?
Next, Professor Johnson offers some reasons why it may yet be a false dawn.
Indeed it's possible that the peak in cases, welcome though it is, could only be a local maximum with further rises to come. The rapid reversal in trajectory (from 40% increases between corresponding days of the week to 40% decreases) seems too sudden to be caused by a rapid gain in immunity. It seems more likely to be due to changes in behaviour, with school holidays, the end of the European Championship football and recent hot weather meaning that infected people have had fewer opportunities to spread the disease.

You could have made a similar argument about Covid peaking in Bolton, one of the first places hit by the Delta variant. There was plenty of talk of local herd immunity there. But it's worth noticing that those falls were subsequently reversed.

And here's the risk now: what behaviour gives, behaviour can take away. I don't think anyone can be certain if and when Covid might start going up again. But Scotland gives us hope that sustained falls may be possible.

So far we haven't even seen the effect of the July 19th reopening in the data, let alone people following now-deleted advice not to 'cower', plus there's the return to schools and universities to come, seasonal effects coming back in the autumn and so on.
The argument that "what behaviour gives, behaviour can take away" is precisely why the models always predict exit waves. Yet the modellers don't seem to have noticed that these exit waves never happen. There was no exit wave in the U.K. or Europe in summer 2020, nor in spring 2021 in the U.K. as restrictions were eased, nor in the U.S. as measures were lifted. Yet the myth of the exit wave persists.
As Infections Plummet Following 'Freedom Day' the Models Predicting Catastrophe are Exposed as Fatally FlawedRead More