27 March 2021 / Updated 17 July 2021
Big increase in excess deaths - But not from Covid - So why?
This is the full link to the data that Neil Clark has highlighted. Looks like the NHS (bangs pots & pans) could possibly have been allowing people to die. Surely they cannot be blamed? After all, we must protect the NHS (Envy of the World), and all the kindly GPs who are considering striking against us, and all the very busy, lovely, TikTok-dancing Nurses. Save The NHS!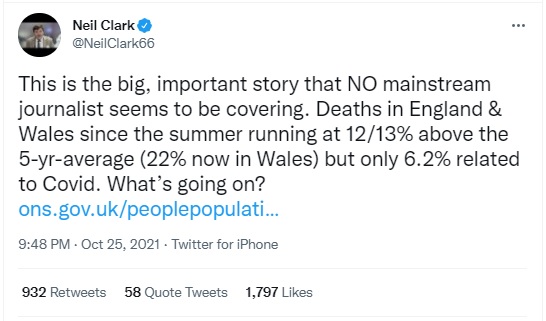 Turns out clapping doesnt fix illness.
We're *starting* to see the result of the NHS becoming the National Covid Service for 18 months.
Undiagnosed cancers, heart disease and other factors combined with the near impossibility to actually see a GP are starting to filter through.
It was entirely predictable and warned about but apparently the only death that matters is a covid death.
Wonder how many of these excess deaths are "sudden" or follow "a short illness" hmmmm.
Already news reports and anecdotal evidence of "unexplainable" increases in heart attacks (after injecting 80% of people with a substance known to cause clotting I don't know how it can be a mystery).
Lack of access to medical care combined with vaxx injuries/deaths will IMHO far outweigh any toll from covid. Propably already does if you use QALY's as the measure seeing how most covid fatalities were chapping at deaths door anyway.
Which weeks were selected to arrive at 12-13% above normal?
I just did the calculation for 2021 up to week 36 and found the figure is 5.1% for England.
Strongly suspect the original statistic was based on a convenient transient in the numbers and therefore a red herring.
New data found from ONS.
Accumulated excess deaths to week 41 is 38,427. for England.
Accumulated covid deaths are around 76,000.