by Dr. Ann Bradshaw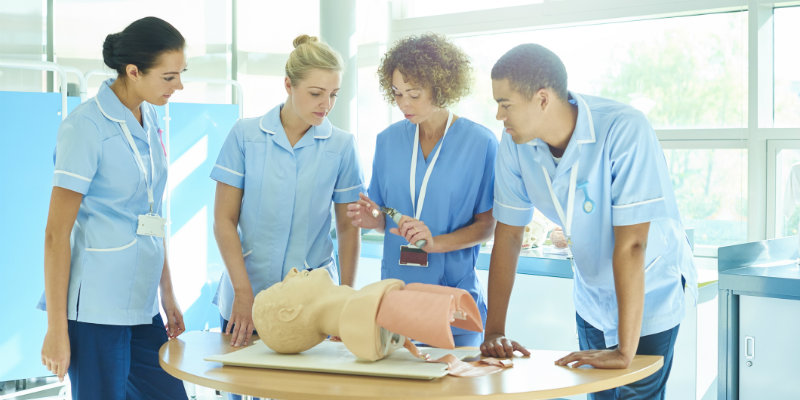 "We don't want to rely on overseas labour," said the Transport Secretary Grant Shapps on September 26th about the shortage of HGV drivers. But this same Government is relying on overseas nurses from Africa to fill the dire nursing shortage that currently means cancer patients are not being treated.
At the end of July, the U.K. Government signed a Memorandum of Understanding to import 20,000 Kenyan nurses. Kenyan Labour and Social Protection Cabinet Secretary, Simon Chelugui, said the Kenyan Government had embarked on exporting highly skilled healthcare workers and professionals abroad. He said the U.K. Government has also committed to building the capacity of Kenya's medical training colleges and universities to train more nurses. Notwithstanding the morality of importing nurses from Africa, this involves what seems to me a contradiction: Kenya has a surplus of nurses and the U.K. is "building the capacity" of Kenya's universities to "train more nurses".
But what is the U.K. Nursing and Midwifery Council (NMC) – nursing's professional body – doing to respond to the U.K's nursing shortage? It recently published research findings into pre-registration nursing and midwifery education to bring about change.
So what are its findings and how will the change benefit patients? Reading its website is confusing and contradictory. "The research we commissioned, including the majority of our stakeholders' views, provided little evidence to support changes to many areas of our existing standards," it says
But the next paragraph reads: "In the light of these findings, we're now recommending to our Council that we consider some changes to our standards. We believe these will ensure that courses are more flexible and accessible, and will continue to give students the best possible education and support to provide excellent care."
Their proposals for change are as follows:
Replacing the E.U. requirements for nursing and midwifery student selection and entry, in order to give institutions more flexibility to determine their own entry requirements, helping them to be more inclusive and widen participation.
For nursing only, increasing flexibility around the use of simulated learning that reflects real life practice.
Removing the E.U. requirements for knowledge and skills from the nursing and midwifery programme standards, where these requirements are now incorporated into the U.K. standards of proficiency, to avoid duplication.
The NMC research itself – commissioned from two organisations – compared and contrasted nurse education programmes in Australia, the E.U., New Zealand, the Philippines and the U.S. (but not Africa or, in this case of particular interest, Kenya). It consisted of in-depth interviews with the NMC's key partners (professional bodies) followed by data collection, with nurse and midwifery registrants, students, employers, educators and organisations representing people who use services and their families. This involved surveys, interviews and self-selected respondents.
One of the conclusions was that specific entry requirements to nursing courses varied enormously between countries and individual Higher Education Institutions (HEIs). The review also found three studies calling for enhanced bioscience content in U.K. pre-registration nursing. This is particularly interesting in that the review does not discuss the curricula internationally or nationally.
But most interesting of all is the review finding on page 112 of "Harlow Consulting's independent evidence review report", quoted in full below:
Robust evidence on the impact and effectiveness of pre-registration programme education standards for nursing and midwifery is relatively scarce. There have, for instance, been few detailed longitudinal studies examining the impact over time of nursing/midwifery education on public health outcomes, patient safety or the development of competent healthcare professionals. Most of the research into the efficacy of nursing and midwifery education, undertaken over the past five years, tends to consist of cross-sectional surveys in which students self-assess their own competence and skill levels. Such studies, which depend on students' subjective evaluations of their own development, offer an important glimpse into student perceptions and experiences but they provide only an imperfect measure of the effectiveness and quality of nursing and midwifery education.
Notwithstanding this paucity of evidence, the NMC is planning a new policy that will reduce placement practice and replace it with simulation in the classroom. This is despite a promise made to the Government in 1988, in response to Secretary of State John Moores. He granted permission to move nurse training to higher education, but warned of "fears that the changes would place nurse education predominantly in a classroom setting, thus unacceptably reducing the practical, patient-orientated content of training". In fact, he placed on record the joint understanding that nursing education must retain its clinical focus and students would not spend substantially less time in clinical areas than at present. (Letter of John Moores to Audrey Emerton, May 20th 1988).
And the NMC policy is not only reneging on the professional body's promise to John Moores but also betrays its official response to the Francis Report, which stated categorically that nursing students would continue to spend half their training in clinical settings (albeit as supernumerary learners rather than as salaried members of the workforce).
Evidence provided to the NMC in 2021 does not show that current programmes of nurse education have improved patient care. Neither have current nurse education programmes solved U.K. nurse recruitment. But there is an obvious solution. Both these aspects could be addressed by making student nurses part of the workforce as paid employees (as I have argued elsewhere). This would immediately deploy more nurses-in-training into the workforce, and they would be paid a salary instead of existing on a bursary. Clinical skills would be learned in clinical practice rather than by simulation in a classroom. The placement should be the workplace. This seems to me a 'win-win' for everyone. That this obvious reform is not even considered by the NMC, which is actually planning to reduce placement experience, leads me to the very sad conclusion that the nursing leadership has moved very far away from what should be its only objective and duty: to serve the patient. And I doubt very much that this government has the will to do anything about it.
Dr Ann Bradshaw is a retired Senior Lecturer in Adult Health Care, Oxford Brookes.