by Jacinta Taylor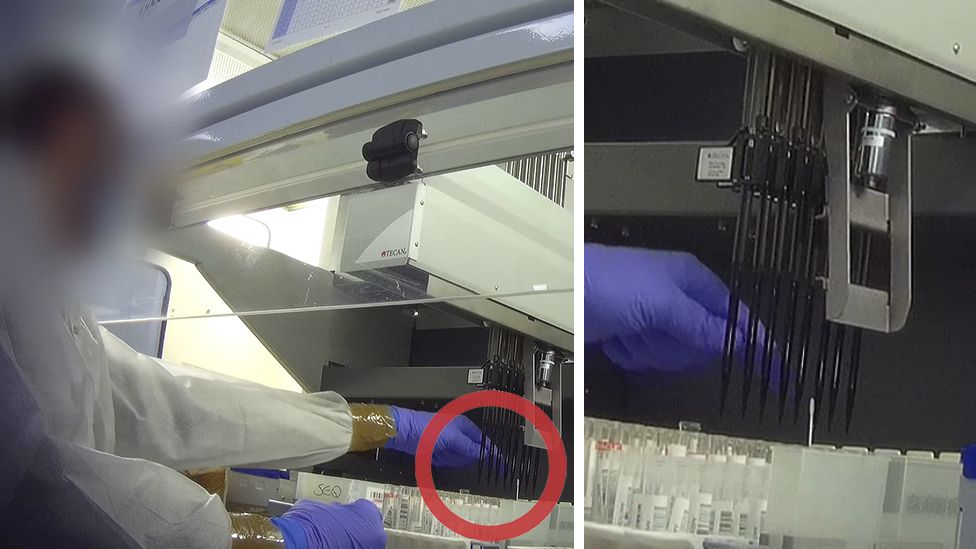 One of the U.K.'s biggest Covid testing labs, where shocking evidence of potential contamination was revealed by undercover filming, has been given a clean bill of health by a Government recognised inspector.
Secret filming by the BBC's Panorama programme at the U.K. Biocentre in Milton Keynes last March showed staff cutting corners and processing samples in such a way that may cause cross-contamination – meaning some people who had taken a test via NHS Test and Trace could have received the wrong result.
But questions remain after it emerged that an accreditation inspection of the Milton Keynes facility was carried out in November 2020 – a good two months before Panorama began its undercover filming.
Worryingly, it is entirely possible the 'witnessing' element – a key component of the accreditation process – may have been conducted via a video link and not in person because of Covid restrictions.
The Panorama programme was filmed in January and February 2021 and caused many experts and members of the public to question the way the lab operates and the accuracy of the 70,000 Covid test results it is capable of processing each day.
It followed earlier allegations of poor working practices at the Milton Keynes establishment witnessed by virologist Dr. Julian Harris while he worked there processing coronavirus swab samples in the summer of 2020. (See this article by Dr. Harris for Lockdown Sceptics published last November.) Dr. Harris called in the Health and Safety Executive (HSE) after highlighting poor safety protocols, a lack of suitable PPE and overcrowded biosecure workspaces. The HSE found five material breaches of health and safety legislation but no improvement notice was issued. Dr. Harris said he was "traumatised" and "freaked out" by seeing inexperienced colleagues unaware of the hazards they were dealing with.
Such was the public alarm at the Panorama revelations that the Department of Health and Social Care (DHSC) was prompted to issue a statement promising: "We take concerns extremely seriously and we will be fully investigating all the allegations that have been made."
But exactly what form the investigations took and who undertook it remains unclear. The U.K. Accreditation Service (UKAS), an independent company which "checks the checkers" and which is recognised by the Government, confirmed that since March 2020, much of its "witnessing" has been carried out remotely although it had adopted a more "blended" approach since restrictions were lifted.
UKAS issued the lab with a Certificate of Accreditation on June 10th of this year. A spokesman said: "UKAS is unable to go into details on individual assessments, including any witnessing arrangements, beyond saying that testing would have been witnessed (either remotely or in-person) as part of the assessment accreditation process."
The Daily Sceptic asked me, an experienced freelance investigative journalist, to find out what the outcomes of the DHSC investigations were.
It's fair to say that the DHSC dragged its heels over giving an answer to the straightforward questions I asked about the outcome of its investigations into the concerns raised both by Panorama and Dr. Harris.
Of Dr. Harris, the DHSC would only say that it "does not comment on individual cases". Even Dr. Harris himself has had some difficulty getting a straight response. "I've been pushed from pillar to post trying to find out what action they have taken in relation to the concerns I raised," he said.
The initial response was a bland statement from the DHSC in which it said:
The Government demands the highest standards to be upheld by all the laboratories in our network, and robust quality controls and safety procedures are in place at all sites. Regular inspections are carried out to ensure these robust protocols are being adhered to. The Milton Keynes lab was inspected by the UKAS in November 2020 and was recommended for an accreditation which recognises international standards for quality and competence.
When repeated requests for more information were ignored, I contacted the Chief Media Relations Officer for NHS Test and Trace only to be told: "I'm afraid you'll need to get in touch with the public enquiries team for DHSC, as we only handle press enquiries." It was only after I persisted again and again for more clarity that a further statement came from another senior media relations officer within the DHSC. This time the statement said:
The Panorama programme was aired in March 2020 and in following reviews of the Milton Keynes lab in April 2021 DHSC is satisfied that the appropriate standards, quality controls and safety procedures continue to be maintained within the laboratory. The Milton Keynes lab was inspected by the UKAS in November 2020. In June 2021 this year, the lab received UKAS ISO15189 accreditation which is the international standard for quality and competence in medical labs.
The DHSC did not elaborate on who conducted the reviews of the lab in April 2021 or on the findings.
During the Panorama programme, a reporter working undercover as a technician at the lab filmed staff cutting corners and processing samples in such a way that risked cross-contamination, meaning negative samples could be contaminated by positive samples, thereby leading to false positive results. Evidence captured on film showed contamination risks where some test samples "glooped" across an area where other samples had been placed, checks to ensure samples could be identified were rushed (meaning tests were sometimes discarded unnecessarily) and Covid test swabs were left in their tubes when processed presenting a further contamination risk. Disturbingly, the reporter was told by a quality control scientist that the quality of the results became progressively worse throughout the day.
In its defence, the lab said it had followed all necessary rules and regulations.
Jacinta Taylor is a freelance investigative journalist.