NHS Pressuring People to Sign "Do Not Attempt to Resuscitate" Orders
In a further sign of how "protect the NHS" gets things precisely backwards (the NHS is supposed to protect us) and puts the vested interests of the organisation ahead of the medical needs of the public, NHS medical staff have been caught pressuring older people to sign "Do Not Attempt to Resuscitate" orders and even imposing them without consent. The Mail has the details, telling the story of 93 year-old Lucy.
All in all, Lucy enjoys a good quality of life and apart from some age-related ailments she had been rated as 'three' on the NHS Clinical Frailty Scale (one is 'very fit' and nine is 'terminally ill').

Despite all this, the morning after the nurse's unannounced visit to conduct a 'frailty review', an envelope was delivered to Lucy's flat containing an A4-size notice with a stark red border.

Designed to be displayed in her home, it was a "Do Not Attempt To Resuscitate Order" — known as a DNAR or DNR — and it stated that Lucy should not be resuscitated by doctors, nurses, or emergency paramedics if her heart stopped. It was signed by the frailty nursing practitioner.

"I was shocked the NHS won't save me. If I collapse, they are refusing to put me together again," Lucy told the Mail.

Lucy is one of millions of people who have been caught up in a new – and, no doubt, well-intentioned – NHS initiative to help those over 65 live at home and not burden hospitals. 

As part of this, individuals are encouraged to make early decisions about 'advanced care' and sign a DNAR.

However, concern is growing about the pressure put on older people to accept DNARs. An urgent review has condemned their "blanket use" in care homes at the peak of the COVID-19 crisis earlier this year.

Health watchdog the Care Quality Commission says many were put on medical records without the consent of the person concerned and their families.

Lucy Jeal's horrified family say Lucy never agreed to the DNAR order, which was also sent to her GP. The family now want the order removed from her medical records.

Lucy's experience struck a chord with readers up and down the country, and we have received hundreds of letters and emails from people sharing their distress at receiving, or seeing their loved ones receive, DNARs without discussion or their permission.
Read Lucy's story and many more here.
"Queues of Patients Nursed on Trolleys in Corridors – The NHS Was Overwhelmed"
An NHS frontline nurse of some 17 years clinical experience has got in touch with some observations about how ludicrous it is to be locking down to "protect the NHS" when the NHS is often in crisis during the winter.
The NHS's "most serious winter crisis for many years". A "lack of staff and beds". 75% of acute medicine doctors say their "hospitals are not properly prepared". An "inability to cope with the number of patients arriving". The NHS "not well-equipped to deal with it". Over 64,000 all-cause deaths in January alone.

Are these predictions for this winter?

No. It is what happened three years ago in the winter of 2017-18. There were more than 50,000 excess winter deaths in England and Wales during that period – the highest recorded excess winter deaths since the winter of 1975-76.

Was there a daily death toll on the BBC news? Do you even remember hearing it in the news?

I remember it actually as I was working in the NHS throughout. Influenza was rife, hospitals were full, ambulances frequently diverted, queues of patients nursed on hospital trolleys in corridors, bed managers scoured the wards for potential discharges. The NHS was overwhelmed.

But I didn't hear anyone calling for lockdown back then.
This year, on the other hand, critical care bed occupancy was below average as it peaked in mid-November, as these graphs from the Spectator's excellent data tracker show.
The problem, of course, is that the political leaders who should have been providing this kind of perspective instead joined in the panic. We have also been severely let down by our public health advisers and scientists.
It's The Covid Panto, But The Children Aren't Laughing
The coronavirus crisis increasingly seems to resemble a pantomime, with the ludicrous actors playing their parts and delivering their lines, and pretending not to hear when the audience spots the off-message data poking out of the cupboard at their rear and shouts "it's behind you!" That's certainly the feeling Sinead Murphy, a philosophy lecturer at Newcastle University and Lockdown Sceptics contributor, has been getting. Today we're publishing a new article from her setting out the challenges she has faced navigating lockdown with her autistic son, Joseph, and her epiphany that reasoning with people doesn't work when they are just playing their parts and delivering their lines.
As I stood across from the acting Head in the vestibule of his school – looking, with his visor, like a poorly-costumed afterthought in the school play – it occurred to me how degraded we have become. That one who ought to be a leader in the community – the Head of a primary school of 630 children – should openly admit that the rationality or otherwise of his decisions on behalf of the children in his school was irrelevant when confronted with recently invented and constantly changing guidelines from the state. That the welfare of all the children – not to mention Joseph, with his additional challenges – was not even to be considered, let alone fought for.

What struck me too was the difference in our demeanour. Notwithstanding his ludicrous visor, his comportment was one of (slightly ruffled) calm; he listened and said little. My comportment, by contrast, was one of heated conviction. And yet, it was he who was selling lunacy that defies all facts, and I who was arguing for reason based on evidence. These are times when lunacy is so deeply institutionalised that it can appear calm, and reason so embattled that it has to act crazy.

When I repeated my question to the acting Head, asking him to respond to the negligible risk to children and the zero cases of child-to-teacher transmission, his response was "I am not a scientist". Well, I am not a scientist either. But Mike Yeadon is. And Sunetra Gupta is. And John Lee is. And Carl Heneghan is. And those who generate statistics at the ONS and the WHO are. Not only this, these scientists produce comprehensible sentences, which can be read and understood. What is the good of being able to read and understand them if their contents are deemed not for me because I am not a scientist? What a truncation, of the Head of a school, that he cannot form a judgement on the basis of reading analyses written for non-experts by experts, but can only play the role assigned to him by the policy. An acting Head reduced to reading from the script.

And that is when the light dawned on my darkest hour.
Well worth reading in full.
Support Sinead Quinn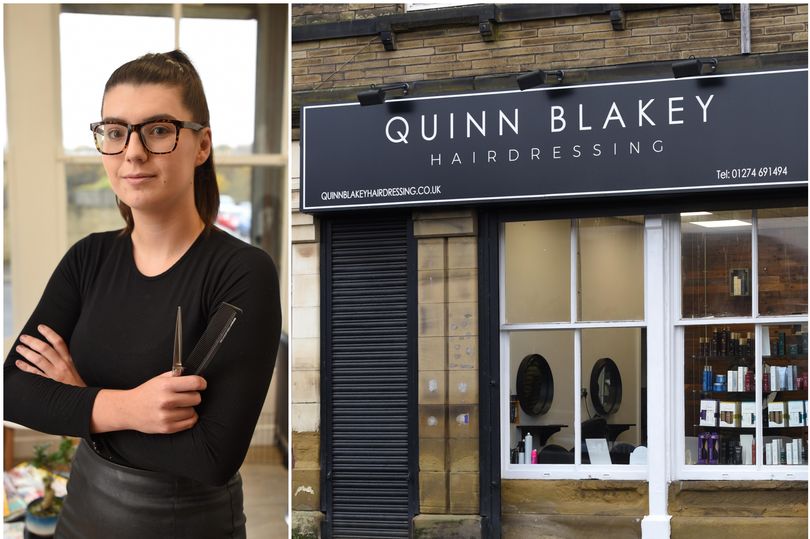 Sinead Quinn is the brave hairdresser from Quinn Blakey Hairdressing in Oakenshaw near Bradford who has been fined £27,000 by Kirklees council for refusing to close during the lockdown and quoting the Magna Carta whenever the martinet officials appear outside her salon. She has now started a crowdfunding page to help pay the fines if her legal challenge fails – though if she wins, as she expects, the money will go to her brother who is fighting cancer.
I'm confident in the fact we will win this fight, so in that case the money will go to my amazing brother who is fighting against stage four bowel cancer. He was diagnosed in August 2020 and he's 36 year old with a wife and two children. He is an amazing soul and he gives me the confidence to fight every single day. He is my best friend and I wouldn't be able to do this without him.

Here's to 2021 – my brother cancer-free and standing up for our rights and taking our freedoms back. 
A deserving cause – do give as you are able and spread the word by sharing the crowdfunder.
Vaccination Must Not be Compulsory – Tell Your MP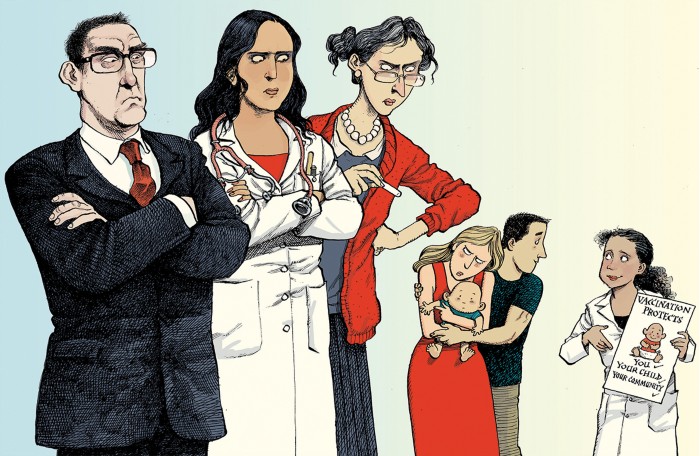 Following our appeal yesterday to readers to write to their MP to call for no restrictions on those who refuse to have a Covid vaccination ahead of the Parliamentary debate on December 14th, a reader has sent us a copy of the letter he sent to his MP, Anthony Browne. It's a good letter, and we're publishing it below in case it inspires others to write similarly.
I voted for you at the last election.

I am writing in connection with the upcoming debate on coronavirus vaccines. I wish to stress that I am not anti-vax, but like many I do have reservations about the vaccine and any thoughts the government might have about making it compulsory or imposing restrictions upon those that refuse to take it.

We live in a free society (or used to anyway) and the very thought that a vaccine might be compulsory makes my blood boil. The government's handling of this pandemic has been utterly shambolic – we have ended up in the worst of all worlds by having a high death rate and a shattered economy and all for a virus that has an infection fatality rate of under 0.5% (and it may be significantly lower than that).

I've never bought into the argument that it was a good idea to quarantine the healthy in order to suppress the virus, and nor do I buy into the argument that we should now vaccinate everyone who is healthy to achieve the same goal. Trying to suppress the virus is like trying to put the genie back in the bottle. We should be shielding the vulnerable and allowing the virus to circulate amongst the healthy, lower risk, population – that is the way we have conquered respiratory viruses in the past and vaccines should be available to the vulnerable and those that want them (and should never be mandatory).

I lived through the Hong Kong flu pandemic in the late 1960s – one in which this country lost c80,000 lives. More than in the current crisis and at a time when the U.K. population was c55m. We did not destroy our economy because of that pandemic and public debt fell during the period in contrast to the mind boggling mountain of debt that has been incurred on your watch.

Do not go down the route of making the vaccine mandatory or imposing restrictions on those that prefer not to take it. If you do, then I for one will certainly never put a cross against your name again.
The link to the Write To Them site, which makes it easier to write to your MP, is here.
Theme Tunes Suggested by Readers
Two today: "Helplessly hoping" by Crosby, Stills & Nash and "Down Down" by Status Quo.
Love in the Time of Covid
We have created some Lockdown Sceptics Forums, including a dating forum called "Love in a Covid Climate" that has attracted a bit of attention. We have a team of moderators in place to remove spam and deal with the trolls, but sometimes it takes a little while so please bear with us. You have to register to use the Forums, but that should just be a one-time thing. Any problems, email the Lockdown Sceptics webmaster Ian Rons here.
Sharing Stories
Some of you have asked how to link to particular stories on Lockdown Sceptics so you can share it. To do that, click on the headline of a particular story and a link symbol will appear on the right-hand side of the headline. Click on the link and the URL of your page will switch to the URL of that particular story. You can then copy that URL and either email it to your friends or post it on social media. Please do share the stories.
Social Media Accounts
You can follow Lockdown Sceptics on our social media accounts which are updated throughout the day. To follow us on Facebook, click here; to follow us on Twitter, click here; to follow us on Instagram, click here; to follow us on Parler, click here; and to follow us on MeWe, click here.
Woke Gobbledegook
We've decided to create a permanent slot down here for woke gobbledegook. Today, it's the news that Millwall fans celebrated being back in the stands by taking the first opportunity given them to show how they felt about their players taking the knee in support of BLM. They booed. The Mail has the story.
Millwall supporters booed their own players while they took the knee in support of the fight against racism at The Den this afternoon.

The scenes have prompted reactions from pundits and former players including Trevor Sinclair, Gregg Halford and Gary Lineker, who told his Twitter followers the Millwall fans not booing were in the "minority".

The day marked the first time that fans were able to attend a game in person since lockdown began in March.

As 2,000 supporters were permitted to attend the Millwall versus Derby County game, it also marked the first time fans have been present since footballers started to take the knee before games.

The gesture has been carried out by players and staff across the country originally in support of Black Lives Matter, before the Premier League distanced itself from the movement.

Not all teams continue to take the knee before games, with Queens Park Rangers' director of football Les Ferdinand saying the impact of the stance had been "diluted". 

As their match against Derby County was about to begin, video footage taken from the ground shows that there were a large number of aggressive boos from the stands as the players knelt down.

Millwall boss Gary Rowett said he was "disappointed" by the fans' behaviour, while opposition manager Wayne Rooney said it was "surprising".

In response, the FA said in a statement: "The FA supports all players and staff that wish to take a stand against discrimination in a respectful manner, which includes taking of the knee, and strongly condemns the behaviours of any spectators that actively voice their opposition to such activities."

The scenes sparked shockwaves through the game, and have divided social media users.

Some players, pundits and fans have condemned the fans' actions while others say the gesture is no longer appropriate.
Stop Press: Not to be outdone, it's been reported that the Vicar of Dibley will take the knee for BLM in her Christmas sermon.
"Mask Exempt" Lanyards
We've created a one-stop shop down here for people who want to buy (or make) a "Mask Exempt" lanyard/card. You can print out and laminate a fairly standard one for free here and it has the advantage of not explicitly claiming you have a disability. But if you have no qualms about that (or you are disabled), you can buy a lanyard from Amazon saying you do have a disability/medical exemption here (takes a while to arrive). The Government has instructions on how to download an official "Mask Exempt" notice to put on your phone here. You can get a "Hidden Disability" tag from ebay here and an "exempt" card with lanyard for just £1.99 from Etsy here. And, finally, if you feel obliged to wear a mask but want to signal your disapproval of having to do so, you can get a "sexy world" mask with the Swedish flag on it here.
Don't forget to sign the petition on the UK Government's petitions website calling for an end to mandatory face masks in shops here.
A reader has started a website that contains some useful guidance about how you can claim legal exemption.
If you're a shop owner and you want to let your customers know you will not be insisting on face masks or asking them what their reasons for exemption are, you can download a friendly sign to stick in your window here.
And here's an excellent piece about the ineffectiveness of masks by a Roger W. Koops, who has a doctorate in organic chemistry. See also the Swiss Doctor's thorough review of the scientific evidence here.
Stop Press: The US CDC has stepped up its mask guidance and now advises "universal use of face masks" which it claims is supported by "compelling evidence".
Universal use of face masks. Consistent and correct use of face masks is a public health strategy critical to reducing respiratory transmission of SARS-CoV-2, particularly in light of estimates that approximately one half of new infections are transmitted by persons who have no symptoms. Compelling evidence now supports the benefits of cloth face masks for both source control (to protect others) and, to a lesser extent, protection of the wearer. To preserve the supply of N95 respirators for health care workers and other medical first responders, CDC recommends nonvalved, multilayer cloth masks or nonmedical disposable masks for community use. Face mask use is most important in indoor spaces and outdoors when physical distance of ≥6 feet cannot be maintained. Within households, face masks should be used when a member of the household is infected or has had recent potential COVID-19 exposure (e.g. known close contact or potential exposure related to occupation, crowded public settings, travel, or non-household members in your house). 
Hard to believe these are supposed to be the authoritative experts given how much in that paragraph is inaccurate or misleading. Have they not noticed, for instance, that mask mandates appear to have done nothing to avert autumn surges in France, Italy, California, etc.?
The Great Barrington Declaration
The Great Barrington Declaration, a petition started by Professor Martin Kulldorff, Professor Sunetra Gupta and Professor Jay Bhattacharya calling for a strategy of "Focused Protection" (protect the elderly and the vulnerable and let everyone else get on with life), was launched in October and the lockdown zealots have been doing their best to discredit it ever since. If you Googled it a week after launch, the top hits were three smear pieces from the Guardian, including: "Herd immunity letter signed by fake experts including 'Dr Johnny Bananas'." (Freddie Sayers at UnHerd warned us about this the day before it appeared.) On the bright side, Google UK has stopped shadow banning it, so the actual Declaration now tops the search results – and Toby's Spectator piece about the attempt to suppress it is among the top hits – although discussion of it has been censored by Reddit. The reason the zealots hate it, of course, is that it gives the lie to their claim that "the science" only supports their strategy. These three scientists are every bit as eminent – more eminent – than the pro-lockdown fanatics so expect no let up in the attacks. (Wikipedia has also done a smear job.)
You can find it here. Please sign it. Now well over 700,000 signatures.
Update: The authors of the GDB have expanded the FAQs to deal with some of the arguments and smears that have been made against their proposal. Worth reading in full.
Update 2: Many of the signatories of the Great Barrington Declaration are involved with new UK anti-lockdown campaign Recovery. Find out more and join here.
Update 3: You can watch Sunetra Gupta set out the case for "Focused Protection" here and Jay Bhattacharya make it here.
Update 4: The three GBD authors plus Prof Carl Heneghan of CEBM have launched a new website collateralglobal.org, "a global repository for research into the collateral effects of the COVID-19 lockdown measures". Follow Collateral Global on Twitter here.
Judicial Reviews Against the Government
There are now so many JRs being brought against the Government and its ministers, we thought we'd include them all in one place down here.
First, there's the Simon Dolan case. You can see all the latest updates and contribute to that cause here.
Then there's the Robin Tilbrook case. You can read about that and contribute here.
Then there's John's Campaign which is focused specifically on care homes. Find out more about that here.
There's the GoodLawProject's Judicial Review of the Government's award of lucrative PPE contracts to various private companies. You can find out more about that here and contribute to the crowdfunder here.
The Night Time Industries Association has instructed lawyers to JR any further restrictions on restaurants, pubs and bars.
And last but not least there's the Free Speech Union's challenge to Ofcom over its 'coronavirus guidance'. You can read about that and make a donation here.
Samaritans

If you are struggling to cope, please call Samaritans for free on 116 123 (UK and ROI), email jo@samaritans.org or visit the Samaritans website to find details of your nearest branch. Samaritans is available round the clock, every single day of the year, providing a safe place for anyone struggling to cope, whoever they are, however they feel, whatever life has done to them.
Quotation Corner
We know they are lying. They know they are lying, They know that we know they are lying. We know that they know that we know they are lying. And still they continue to lie.

Alexander Solzhenitsyn
It's easier to fool people than to convince them that they have been fooled.

Mark Twain
Men, it has been well said, think in herds; it will be seen that they go mad in herds, while they only recover their senses slowly, one by one.

Charles Mackay
They who would give up essential liberty to purchase a little temporary safety, deserve neither liberty nor safety.

Benjamin Franklin
To do evil a human being must first of all believe that what he's doing is good, or else that it's a well-considered act in conformity with natural law. Fortunately, it is in the nature of the human being to seek a justification for his actions…

Ideology – that is what gives the evildoing its long-sought justification and gives the evildoer the necessary steadfastness and determination.

Alexander Solzhenitsyn
No lesson seems to be so deeply inculcated by the experience of life as that you never should trust experts. If you believe the doctors, nothing is wholesome: if you believe the theologians, nothing is innocent: if you believe the soldiers, nothing is safe. They all require to have their strong wine diluted by a very large admixture of insipid common sense.

Robert Gascoyne-Cecil, 3rd Marquess of Salisbury
Nothing would be more fatal than for the Government of States to get into the hands of experts. Expert knowledge is limited knowledge and the unlimited ignorance of the plain man, who knows where it hurts, is a safer guide than any rigorous direction of a specialist.

Sir Winston Churchill
If it disagrees with experiment, it's wrong. In that simple statement is the key to science.

Richard Feynman
Of all tyrannies, a tyranny sincerely exercised for the good of its victims may be the most oppressive. It would be better to live under robber barons than under omnipotent moral busybodies. The robber baron's cruelty may sometimes sleep, his cupidity may at some point be satiated; but those who torment us for our own good will torment us without end for they do so with the approval of their own conscience.

C.S. Lewis
The welfare of humanity is always the alibi of tyrants.

Albert Camus
We've arranged a global civilization in which most crucial elements profoundly depend on science and technology. We have also arranged things so that almost no one understands science and technology. This is a prescription for disaster. We might get away with it for a while, but sooner or later this combustible mixture of ignorance and power is going to blow up in our faces.

Carl Sagan
Political language – and with variations this is true of all political parties, from Conservatives to Anarchists – is designed to make lies sound truthful and murder respectable, and to give an appearance of solidity to pure wind.

George Orwell
The object of life is not to be on the side of the majority, but to escape finding oneself in the ranks of the insane.

Marcus Aurelius
Necessity is the plea for every restriction of human freedom. It is the argument of tyrants; it is the creed of slaves.

William Pitt the Younger
If you tell a lie big enough and keep repeating it, people will eventually come to believe it. The lie can be maintained only for such time as the State can shield the people from the political, economic and/or military consequences of the lie. It thus becomes vitally important for the State to use all of its powers to repress dissent, for the truth is the mortal enemy of the lie, and thus by extension, the truth is the greatest enemy of the State.

Joseph Goebbels (attributed)
The whole aim of practical politics is to keep the populace alarmed (and hence clamorous to be led to safety) by menacing it with an endless series of hobgoblins, most of them imaginary.

H.L. Mencken
Shameless Begging Bit
Thanks as always to those of you who made a donation in the past 24 hours to pay for the upkeep of this site. Doing these daily updates is hard work (although we have help from lots of people, mainly in the form of readers sending us stories and links). If you feel like donating, please click here. And if you want to flag up any stories or links we should include in future updates, email us here. (Don't assume we'll pick them up in the comments.)
And Finally…
The Ulster Fry has done a brilliant mock Christmas album ad. Not to be missed.